Ceramic armor
Ceramic Armor It's said that the development of ceramic armor can be traced back to 1918, to the final days of WWI, when British Army Major Neville Monroe Hopkins discovered that a plate of rolled homogeneous armor steel was much more resistant to penetration if covered with a thin layer of hard enamel. Over twenty-five years later, as Doron was being studied by the Monsanto Chemical Company in the final days of World War II, it was discovered that a solid plate of glass in front of a hard Doron plate was more effective than an equal weight of Doron plate alone. But the first truly modern ceramic armor system dates back to early 1963, and a patent filed by Richard Cook on behalf of the Goodyear Aerospace Corporation. This patent, entitled "Hard faced ceramic and plastic armor," describes a piece of armor of essentially modern construction: A plate of alumina, or a mosaic of alumina tiles, over a backing of Doron fiberglass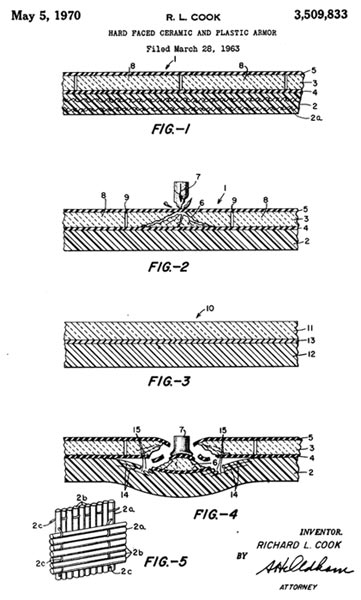 It is unknown to what extent the Cook patent was commercialized or licensed, but it is known that the Army Materials and Mechanics Research Center (AMMRC) started experimenting with ceramic armors almost immediately after that patent was filed. And indeed the Army's first experimental systems perfectly mirrored the one mentioned in the Cook patent: They were made of alumina ceramic, with a backing material of Doron or aluminum alloy. Coors Ceramics manufactured a small number of these alumina-Doron breastplates for use in the early days of Vietnam, which likely represents the first use of ceramic body armor in combat. The armor was effective — but, as the front and back plates weighed 28 pounds (12.7 kilograms) in total and didn't dissipate body heat, they were very uncomfortable to wear in the sweltering jungles of Vietnam; thus, like the gleaming steel breastplates of WWI, they were utilized only by aircrews, sentries, and stationary troops. The vast majority of the ceramic armor plates produced over the course of the Vietnam war were issued solely to aircrews; even so, and in spite of the fact that long-range physical mobility is not something frequently demanded of aircrewmen, they found the early alumina plates — colloquially referred to as "chickenplates" — excessively burdensome. Needless to say, infantrymen would have thrown such breastplates away at the first possible opportunity!
The DoD sought out lighter and more comfortable solutions. Small quantities of silicon carbide ("Class II") and boron carbide ("Class III") ceramic vests were subsequently produced and issued to aircrews. The class-threes were originally made of hot-pressed boron carbide tiles, arranged in a mosaic-type array of small plates, and were extremely expensive to produce. In 1965, monolithic, multi-curved boron carbide armor plates were developed by scientists at The US Army Natick Research and Development Laboratories and Picatinny Arsenal — an extraordinary engineering achievement at the time. These highly advanced, essentially modern plates were issued to aircrews in very small quantities.
Dr. John Foster, Deputy Director of Defense Research and Engineering in the DoD in the mid-1960s, realized the potential of ceramic armor, and wanted to see how far his department could advance the military applications of ceramic armor. He asked his friend, Dr. Mark Wilkins at the Lawrence Livermore National Laboratories, to spearhead a project which became known as the "Light Armor Materials Program." The primary goal of this project was to determine the optimal materials and configurations for military light armor — that is, for aircraft, light vehicles, and body armor purposes — and it's quite impossible to see how the LLNL-based team could have done a better job; the exactingly rigorous and pioneering work of Dr. Wilkins and his colleagues stands out as the most impressive body of work in the field of armor science.
The LLNL team started by preparing a database of all known low-density ceramic materials with desirable mechanical properties for armor purposes, such as high hardness and compressive strength. This list included all of the ceramic materials that are in use today: Alumina, silicon carbide, titanium diboride, and boron carbide. It also included a number of materials that have never seen use, such as the beryllium borides Be2B and Be4B, the aluminum boride AlB12, and the intermetallic titanium beryllide TiBe12, among many others. Wilkins and his colleagues then combined real ballistic experiments with numerical simulations. The experiments included flash radiography, microstructural analysis, the measurement of residual velocities, the analysis of failure modes, and the development of a standardized .30-caliber monolithic hardened-steel test bullet. The 2D numerical simulations were the first of their kind, and the "HEMP" model developed by Wilkins himself and used by the LLNL team was the basis for a great deal of subsequent work in the field.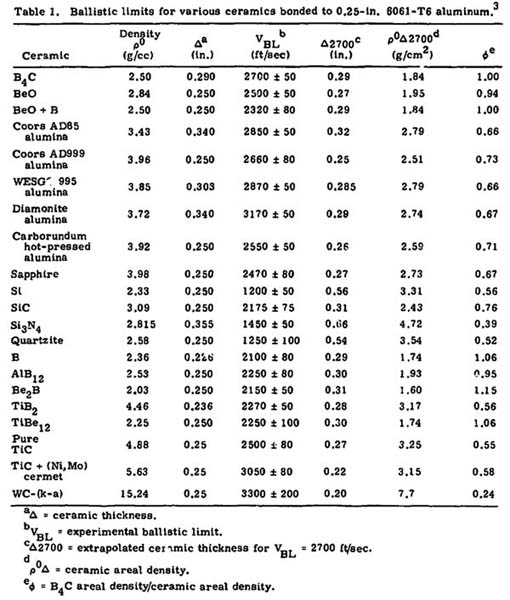 Following dozens of experiments, Wilkins and his team were able to make a number of general observations which later became effectively axiomatic:
1) The armor needs to be as hard as the bullet (or harder) to defeat the bullet; and the converse is true, thus the reason for tungsten carbide core bullets;
2) The armor layer needs to be at least 1/2 the bullet diameter in thickness to successfully defeat the bullet;
3) The front ceramic needs to be about 1/3 of the thickness of the total plate and the backing needs to be about 2/3 of the total;
4) The basic characteristics of the composite plate are that the front armor material needs to break and turn the bullet and the backing material needs to be ductile to catch the penetrating products without failing;
5) Understanding the fracture/cracking/breakup of the ceramics is only important for thick ceramics, less so for thin sections of armor plate. [1]
These axioms guided the next few decades of armor research. They are only just starting to show their age, as will be discussed here in the future.
Wilkins and his colleagues made a few other noteworthy observations. First, they determined that "functionally graded materials" — that is, materials where the transition from hard to ductile proceeds in a gradual, graded manner, are potentially highly effective as armor materials. What's more, unlike ceramics and ceramic composites, graded materials can be used for structural, load-bearing purposes.
The LLNL team also determined that inherent ductility in ceramic materials improves performance markedly. Unfortunately, only a few low-density ceramics (the beryllium compounds BeO, Be2B, and Be4B, and magnesium oxide, MgO,) exhibit any ductility, and most of them proved completely unsuitable for armor use. Experiments in ceramic-metal hybrids — cermets — which would presumably exhibit the high hardness and low density properties of ceramics, yet retain some of the ductility of metals, were subsequently pursued. These experiments met with limited success. Cermets with desirable mechanical properties were made — particularly in the titanium carbide-nickel system — but these were relatively high-density materials, at over 5g/cm3. Low-density cermets were not successfully fabricated at that time. Experiments in lightweight systems of presumably high potential — such as, for instance, aluminum-boron carbide — were generally unsuccessful.
The best-performing ceramics in the LLNL's multi-year survey were the beryllium borides Be2B and Be4B. They exhibited astonishingly low density (<2g/cm3), some measure of ductility, and were hard enough to defeat the steel-cored ammunition of the test. (Though, at roughly 1300HB, likely not hard enough to fare so well against tungsten carbide cored ammunition!) What's more, they were easy to manufacture; for, on account of their unusually low melting points, they could be cast like aluminum or steel! Despite these merits, and despite the exhaustive and costly evaluations they were subject to, beryllium-based armor materials were never given serious consideration by the US Military. For one thing, inhalation of beryllium dust can be fatally toxic, which fact alone was enough to disqualify it from use in service. For another thing, beryllium is a scarce element and extremely expensive — far too expensive for broad adoption as an armor material. [2]
As boron carbide and silicon carbide armors were in use prior to the establishment of the Light Armor Materials Program, and as no useful material was found that surpassed them, the LLNL's program had little impact on the course of the Vietnam war. But Wilkins and his colleagues shaped the fields of armor engineering, terminal ballistics, and ceramic fracture mechanics, for decades to follow.
Where armor engineering is concerned, this was not wholly positive. Over the 80s and 90s, staggering efforts were invested in producing silicon carbide and boron carbide cermets. Although some early silicon carbide cermets — with over 60% ceramic content — were eventually used in aircraft armor systems, the material was never issued as part of a body armor system, likely on account of antiballistic inferiority to pure boron carbide and silicon carbide. These cermets were produced by Lanxide Armor Products Co., and their fabrication involved the creation of porous ceramic sponges that were infiltrated with molten metal at atmospheric pressure and relatively low temperature. (Around 1500°C.)
A lightweight aluminum-boron carbide cermet was eventually produced by a different US Military contractor, in a follow-up on some LLNL research on the same system. Although it performed well in ballistic experiments, it was difficult to fabricate and proved far too expensive for broad use, so only a handful of experimental plates were made.
Functionally graded materials have never been successfully produced in bulk for armor or aerospace applications. Despite their initial promise, the manufacturing difficulties associated with their fabrication have thus far been impossible to overcome.
At the time of this writing, boron carbide, silicon carbide, and alumina plates over a ductile backing material still represent the "state of the art," so to speak, in ceramic body armor. Thus, needless to say, there has been limited technical progress in the field since the mid-1960s. Advances in light armor polymers, e.g. aramid and Dyneema, have rendered fiberglass-reinforced thermoplastics like Doron obsolete, and so the backing layers in armor plates have become lighter, thinner, and more effective — but nothing has yet been found which might replace or improve the ceramic materials which have been in use since the mid 60s.
The major development of recent decades has been the development of reaction bonded silicon carbide and reaction bonded boron carbide. (RBSiC and RBB4C, respectively.) In 1998, Lanxide Armor Products closed up shop. A few years later, their intellectual property rights were bought by M-Cubed Technologies. M-Cubed, doubtless drawing upon Lanxide's research data and production equipment, then developed the reaction bonding process, whereby molten silicon would infiltrate sponges of either porous silicon carbide and carbon, for RBSiC, or boron carbide, for RBB4C. In the former case, the result is a Si-SiC cermet. In the latter, a composite B4C-SiC-Si cermet.
So-called "reaction bonded ceramics" are relatively easy to fabricate — RBB4C, in particular, is much cheaper and easier to manufacture than hot-pressed boron carbide — a fact which has enabled their production in large bulk quantities. Furthermore, much unlike hot-pressed materials, which tend to be flat plates or discs, reaction bonded ceramics are relatively easy to manufacture in various different geometries and curvatures. But these reaction bonded ceramic materials, which are actually silicon cermets, display inferior mechanical and ballistic properties. RBB4C, especially, is very inferior to hot-pressed boron carbide as an armor material: It is half as hard, it is much less effective at stopping tungsten carbide cored rounds, and it is significantly heavier than hot-pressed boron carbide; it often clocks in at 2.65-2.8 grams per cubic centimeter. The progress of recent years, therefore, has not been without its drawbacks; it has resulted in armor materials that are, in many key respects, actually inferior to those used in the Class II and Class III Chickenplates of the Vietnam War! And yet, with that said, reaction bonded cermets are extensively used in the US Military's latest body armor systems.
In today's CONUS police and civilian markets, virtually all ceramic armor systems are made of alumina over aramid. Silicon carbide plates are obtainable, but are fairly rare and relatively expensive. Boron carbide plates are very rare and can be exorbitantly expensive — likely on account of the fact that boron carbide, unlike silicon carbide and alumina, is of limited industrial use, is not produced in huge quantities, and the military's suppliers don't sell their armor plates to outside markets.
Mechanical properties of selected armor ceramics:
Alumina (Al2O3) is an ivory-colored ceramic of low cost and ready availability. It is the highest volume armor ceramic in the word due to its favorable cost:performance ratio. It is, however, too heavy for use in modern body armor systems. Typical properties are: Alumina purity (typical): 97-99.9% Density: 3.95g/cm3 Hardness (Vickers): 1200-1600 HV1 Fracture toughness: 3-5 MPa*m1/2 Compressive strength: >2000MPa
Silicon Carbide (SiC) is lighter in weight than alumina, and is slightly superior in terms of performance. The cost of silicon carbide armor pieces is, however, more than five times higher than equivalent alumina pieces — this is on account of the fact that silicon carbide is more difficult to work with, as far higher temperatures and tighter processes are required during sintering. It is generally utilized in high-end body armor. Its crystal structure and molecular characteristics are complex, and will be the subject of a future post. Density: 3.21g/cm3 Hardness (Vickers): 2000-2850 HV1 Fracture toughness: 3-5 MPa*m1/2 Compressive strength: >2500MPa
Nominally B4C,"boron carbide" denotes a number of possible compositions, from the carbon-rich extreme of B4.3C, to, on the other end of the spectrum, the boron-rich extreme of B10.4C.  Commercial boron carbide is generally far closer to the carbon-rich extreme, so it's not inappropriate to simply use the common "B4C" nomenclature.
Boron carbide is a dark gray ceramic which possesses exceptionally good mechanical properties — particularly in its low density and high hardness.  It is, however, difficult to densify from powder, on account of the covalent nature of its bonding, low surface tension, poor plasticity, and high slip resistance on grain boundaries up to temperatures approaching its melting point.
Processing difficulties mean that it's generally a very expensive material, and pure hot-pressed boron carbide is extremely rare as a body armor material, but is generally considered to be the best material that money can buy. This is true, with one caveat: Boron carbide armor under-performs against tungsten carbide cored bullets, on account of the fact that its crystal structure collapses (undergoes shear amorphization) under the high pressures typical of ballistic impact from WC-based rounds.
Density: 2.51g/cm3 (pure boron carbide), 2.6-2.8g/cm3 (reaction bonded boron carbide)
Hardness: 2900-3200 HV1 (hot-pressed boron carbide), 1500-1700 HV1 (reaction bonded boron carbide) Fracture toughness: 2.5 MPa*m1/2
Compressive strength: >2700MPa
[1] – S.R Scaggs, 27th Annual Cocoa Beach Conference on Advanced Ceramics and Composites: A: Ceramic Engineering and Science Proceedings, Volume 24, Issue3
[2]-Beryllium's 2018 price is approximately $2000/kg. Assuming each armor plate of Be2B would require approximately 750 grams of beryllium, and assuming each soldier requires at least two plates, the cost to outfit a division of 12,500 men in beryllium armor would come out to nearly $40 million. Those same soldiers could be outfitted in (admittedly sub-par) alumina plates for significantly less than $1 million, and in boron carbide of the absolute finest quality for less than $5 million.
Follow us | Contact us:
Facebook | Youtube | Contact