Steel Armor
As the previous post noted at length, steel has been used in armor from ancient times. It is still the world's most ubiquitous armor material, on account of its excellent mechanical properties, coupled with the fact that it is an extremely low-cost solution.
Steel body armor, as a means of defeating high velocity aimed projectiles, was extensively used in WWI. Its use was generally experimental, and the experiments generally received poor-to-middling feedback, thus at no point in the war was steel body armor common. Soldiers generally found it burdensome, and not worth the effort of wearing, which is little surprise, as the steel body armor of those days was both thick — regularly weighing in excess of 30lbs — and it offered imperfect protection, being roughly equivalent to the flak jacket of later eras. For these reasons, taken together, the use of steel armor was generally relegated to soldiers in more-or-less stationary positions: Sentries, machine gun crews, and sappers. Even so, the use of steel body armor was judged a failure, and its use all but disappeared in the days following WWI. [1]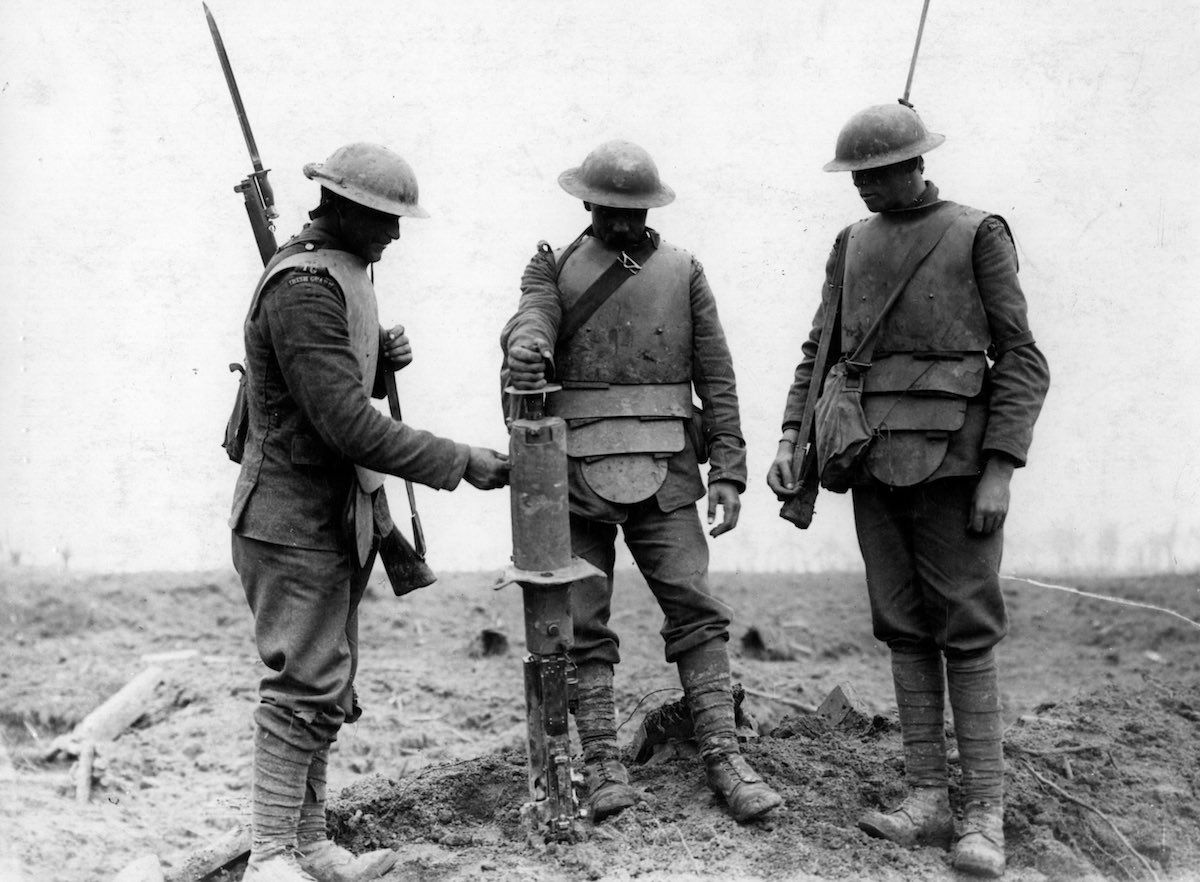 The poor feedback had much to do with the fact that 81% of WWI's combat casualties were due to rifle and machine gun fire, against which steel armor offered no meaningful protection. Yet it must be noted that this is anomalous, for in WWII and subsequent wars, casualty statistics indicate that 70-80% of casualties were due to fragmentation, explosions, and indirect fire, and only 20-30% of casualties were due to direct rifle or machine gun fire. It stands to reason that the widespread use of steel body armor — or any armor — could have saved many lives in WWII. [2]
It is unfortunate, then, that steel armor saw only very limited use in that war. British and American field tests, in 1941, with manganese steel vests were judged unfavorably; all reports indicated that the advantages they might bring their wearers would be negligible compared to the loss of combat efficacy and the increased carrying load — despite the fact that the body armor system in question was around 1.5mm thick, on average, and weighed less than 3 pounds in total.
In 1942, following reports from aircrews of extremely dense flak that would punch through airframes and injure crewmen, the UK Royal Air Force started issuing steel armor to its aircrewmen. The armor they developed was initially comprised of 1mm thick manganese steel plates, 2 inches square, sewn into pockets, over a backing of flax canvas. It was offered in different cuts, from full-cuts which included leg and groin protection, generally intended for gunners who had to operate from a standing position, to vests which covered the front of the torso only, generally for pilots. Depending on the extent of coverage they provided, the weights of these early flak armor suits were from 4.5 to 16 pounds.
The US quickly adopted the design, and issued flak jackets to US Air Corps aircrewmen and US Navy personnel on aircraft carriers. The composition of the steel remained identical from a metallurgical perspective, and the thickness and size of the plates was not changed, but the backing was upgraded from canvas to ballistic nylon, a fact which increased performance considerably. Late in World War II, when flak jackets were ubiquitous among airmen, there was a reduction of 60% in the total number of combat-related wounds.
While these nylon-steel flak jackets were in use, the United States Army and Navy were busy trying to find a more efficient armor. More efficient, in this context, meaning lighter weight and enhanced protection. The development of Doron, a laminate of fiberglass and polyester resin, achieved both of these objectives. At an equivalent weight, the new fiberglass composite was significantly more protective than steel or aluminum; at a meaningfully lighter weight, it still offered slightly more protection. Following the adoption of Doron, which will be further discussed in a future post, steel was supposedly rendered obsolete as a body armor material, and gradually passed out of active military service. [3]
As it turns out, the reports of steel body armor's death were greatly exaggerated, for it has enjoyed a marked resurgence in recent years. AR500 — an industrial grade of abrasion resistant steel with a Brinell hardness of approximately 500, thus "A R 500" — had initially been marketed as a steel target material, made possible by its ability to resist penetration from rifle fire in thin sections, and popular due to the satisfying sound and sparks it makes upon impact, which are audible and visible from great distances. Around 2011-2012, private US companies began selling AR500 armor plates to the civilian and law-enforcement markets in earnest. These plates were approximately 6.3-6.5mm thick, weighed 7.5lbs (3.4kg) in the popular 10×12 inch "shooter's cut," and were generally, but not always, coated with a layer of polyurea to mitigate spalling and help prevent ricochets. Ballistic testing showed that such plates generally had little problem resisting multiple shots from the 7.62×51mm M80 Ball and similar rounds, and could stop M855 at muzzle velocity, but were likely to fail against extreme-high-velocity rounds, such as 5.56mm M193 rounds traveling at 3100+ feet per second — velocities typical of shots fired at close range from a 16″+ barrel. AR500 armor plates are wholly incapable of stopping AP rounds at typical engagement distances, even such lowly AP rounds as the 7.62x39mm API-BZ. Yet on account of their low thickness, durability, wide availability, and extremely low cost at less than $100 per plate at retail, AR500 armor plates very quickly became the most popular form of rifle-rated armor on the civilian market. Indeed, plates seemed to sell faster than the manufacturers could produce them!
As of 2016, major military contractors and armor OEMs, doubtless taking a cue from AR500 Armor, had begun to offer steel armor plates. The most noteworthy of these was Tencate's 8075SA, which, at a thickness of just 5.08mm and a weight of 6.2lbs (2.83 kg), was claimed to stop the M193, M855, M80 Ball, and 7.62×39 PS Ball rounds — all at muzzle velocities from full-length barrels. 2.83 kilograms is still, however, markedly heavier than the ceramic composite plates currently available, and all steel plates are, again, incapable of stopping steel-cored AP rounds. The 8075SA was also noteworthy for its unusually high price — it retailed for several hundred dollars per plate, and as of January 2018 seems to have been discontinued, presumably due to low demand.
The militaries of the world have, as yet, shown little-to-no interest in steel armor, though the civilian market for such plates continues to thrive. I believe that this is unlikely to change in the near future.
I'll mention in passing that steel, and often very good grades of steel, remains the premier material for use in vehicular armor. In light of this, it's also worth mentioning that the vehicular armor market is roughly ten times larger than the body armor market. Steel remains, therefore, the world's premier armor material.
As for the mechanical properties of selected steel alloys used in modern armor systems:
AR500 is a low alloy steel, of medium carbon content (0.31%), quenched and tempered to a hardness of approximately 500HB. It is weldable. Yield strength is typically 1515MPa, tensile strength 1620MPa, charpy impact at 24 J, elongation at 14% in 2″. It costs roughly $2/kg in bulk, and is among the cheapest armor-grade steels available, likely due to its lean metallurgical profile, along with the fact that it's produced in bulk for industrial use. (Nickel-rich and cobalt-rich alloys are much more expensive, as are high-strength specialty steels that are only produced in small batches.) The US military specification MIL-DTL-46100E "High Hardness Armor," is closely analogous to AR500, but is intended for vehicular use.
ARMOX Advance is a ultra-high hardness steel used primarily for vehicular armor, but also of interest for body armor. It is a low alloy steel, with nickel as the primary alloying element. It is quenched and tempered to a hardness of approximately 670HB. Yield strength is 1600MPa, tensile strength 2250MPa, charpy impact at 14 J, elongation at 9%. Armox claims that just 4.5mm of Armox Advance can defeat the 5.56x45mm M193 at 937m/s or 3075fps — just a couple hundred feet per second below muzzle velocity.
Deutsche Edelstahlwerke Megafort-Z (previously Thyrodur Z) is a Ni-Cr-Mo-alloyed steel marketed as a premium vehicular armor material. It can be quenched and tempered to a hardness of approximately 575HB. At this hardness, tensile strength is 2000MPa, and elongation is over 14%. A 3.8mm thick panel of Megafort-Z can defeat the 7.62×39 PS Ball round at 700 m/s, which is muzzle velocity. This is a very impressive feat.
Armox advance and Megafort-Z represent, each in their own way, the high-end of the steel armor market, whereas AR500 is without question the most common alloy used for body armor today.
For comparison's sake, the armor steel used in the flak jackets of WWII, Hadfield steel, was an austenitic manganese steel with a carbon content of 1.2% and a manganese content of 12%. Its tensile strength was approximately 500MPa and its yield strength was 860MPa. Hadfield steel is not a very hard steel, at generally just 240HB — however it shows extensive strain-hardening effects, and can reach hardnesses of over 400HB (along with correspondingly higher strength) upon impact or if pre-treated via compression or shot peening.
It may be interesting to note that there are maraging steel grades which exhibit tensile strengths higher than 3100MPa, combined with great elongation and fracture toughness, and hardness values which exceed 700 HB. (!!) These maraging steels are, however, chemically complex, and orders of magnitude more expensive and difficult to produce than low alloy steels. (I've seen maraging steels cost as much as $345/kg, and there are surely even more expensive grades.) Their production and export are also tightly controlled, as steels of this extremely high grade are often used to manufacture centrifuges for the separation of nuclear materials. For these reasons, maraging steels with tensile strengths over 2300MPa have never been utilized in military armor. Their military uses are presently restricted to missile skins and other applications where strength is prioritized at any and all costs.
It is frequently said that steel metallurgy has been exhausted — that it's unlikely that future steel armor systems will be able to improve significantly upon the current state of the art. This is an erroneous belief, but that's a matter for a future post.
[1] An interesting aside is that the design of the modern military helmet dates back to WWI. Dr. Bashford Dean, the author of the previous post, contributed a number of helmet designs to the US Army, one of which rated very highly, but was judged to be too similar in appearance to the standard-issue German helmet of the time, so it wasn't approved for use! The German helmet was itself based on a medieval design, and was judged to be the most effective helmet of its time.
[2] There are numerous personal accounts of this, but the very best is the famous "Company Commander: The Classic Infantry Memoir of World War II" by Captain Charles B. MacDonald. The use of artillery in Captain MacDonald's account was seemingly ubiquitous — it featured in every action and every operation — and the vast majority of the casualties mentioned in the book were hit by shrapnel from shells or mortars.
[3] Although steel body armor passed out of military use a very long time ago, the steel M1 helmet remained in use until the early 80s, at which time it was replaced by the Kevlar PASGT helmet. Interestingly, the M1 and the PASGT are very similar in weight, are quite similar in ballistic protective ability, the M1 is significantly cheaper to produce, the M1's liner made for a one-size-fits-all solution, and soldiers in the field have always found the M1 useful for cooking and shaving, whereas the PASGT was useless for those purposes… so one could certainly call into question the wisdom and necessity of the M1's replacement! The Kevlar PASGT, although of similar performance vs. bullets, does, however, exhibit a much higher V50 versus fragments and fragment-simulating projectiles.


Follow us | Contact us:
Facebook | Youtube | Contact