ARMOR: PAST
To launch a blog about armor, I believe that it may be best to start with a review of its historical uses, from antiquity to World War I. The author of the following historical account, the very eminent armor expert and historian Bashford Dean, has already written such a review. It can hardly be improved upon, so I shall incorporate it in its entirety.
The author, in his own words, has sought to answer the following questions:
(A) What kinds of armor were early used?
(B) Was armor actually an important means of saving life and limb?
(C) How was it made?
(D) How was it tested?
(E) How heavy, irksome and even dangerous was it to wear?
(F) What in summary was its use in later times but prior to the Great War?
It should go without saying that the answers to these questions set the stage for the discussion of modern armor — and, what's more, that the reasons for the disappearance of armor from the battlefield has much to teach the modern armorer. So although it might seem unusual to launch a technology blog with a thorough review of the now-distant past, Mr. Dean's fine work should make it clear that our forefathers still have much to teach us, and their techniques and lessons are worth careful study.
I have taken the liberty of italicizing passages which I deem to be especially relevant.
If there's one significant take-away message, if there's a "bottom line," it is that armor wasn't simply abandoned because it was ineffective against the musket and arquebus. To the contrary, it was strikingly effective; yet the development of firearms forced armor to become increasingly heavy and increasingly plain. Subsequently, strenuous infantry tactics reminiscent of modern maneuver warfare, which had begun to be implemented around the time of the Thirty Years' War of the mid 17th century, encouraged soldiers to do away with as much of their armor as possible. Thus armor became, in the words of Mr. Dean, "unfashionable, then unpopular and in the end discredited" among fighting men.
It therefore follows that the aim of the modern armorer — to strike the best balance of performance and weight — is a well-founded one, but that there's more to it than just that: Tactics and the realities of war must also be taken into account.
Adapted from Helmets and Body Armor in Modern Warfare, published 1914.
By Bashford Dean.
HELMETS and body armor are usually considered as objects beautiful, rather than useful. They are exhibited in museums, in halls hung with tapestries, beside faience, ivories and enamels of olden times. Some of them were designed by artists whose names are highest of all in the history of art, Raphael, Leonardo, Donatello, Holbein, Michael Angelo and those who actually made and decorated the armor were masters hardly less distinguished. Certainly in their day they were paid the highest honors. Seranno di Brescia, armorer of Francis I, was received at court on the same footing with Titian; the Milanese Missaglia lived in princely splendor, and Seusenhofer, the helm-smith, was one of the intimates of the knightly Maximilian.
It is, then, from the viewpoint of artistic excellence that armor has largely been treated, especially as to its decoration and its various forms. Its technical side is little known, and few there are, even among specialists, who have considered how difficult armor was to make, and how time consuming, for a suit of armor of high quality might cost its maker years of labor. And, particularly, little is known as to its usefulness in combat, which, none the less, was the main if not the only reason for its existence. Armor, in a word, has been studied as a dead language or, better perhaps, as the bones of a fossil animal, which the anatomist examines attentively and from which he is led to explain the habits and capabilities of the animal itself. Nevertheless, there are clearly other paths leading to a knowledge of armor which deserve to be more carefully followed, and two of these, especially, guide us in practical directions. One of them points the way to early references, which at the best are scanty and difficult of access, but which tell quite accurately what armor could do and how the early masters gained their results, a path opened up delightfully for us by M. Ch. Buttin [1] in his studies of early armor of proof. Following the second path we can actually test pieces of ancient armor and then compare the results with ballistic studies on modern "armor plate" : continuing this comparison we can then submit the old material to metallurgical examination, chemical and physical (including microscopical), and thereby gain definite information as to how the ancient steel was produced.
From early records we can clearly show that armor yielded excellent results in its day, and that during many centuries it was sought eagerly by soldiers of all classes. We learn that the prince, no less than the peasant, was quite willing to bear the discomfort of wearing it, under all conditions, even in the heat of the desert. Indirectly we know that had it not been useful it would not have appeared in numbers in every European field of battle from early times until the epoch of Napoleon. Moreover, we discover that it was used not by adults merely, but by young as well, for many suits of armor are preserved which were made for children.[2] So important, indeed, was armor in the history of from 1400 to 1700 that by its means we could still give a convincing summary of the cultural and artistic changes which took place in European civilization if all other sources of human knowledge were wiped away. [3]
The reason for the present lack of information as to the practical nature of armor is not far to seek. Little was written systematically upon this theme in olden times, and later, when armor disappeared from general use, little was remembered about it. That it would again appear as part of the regular equipment of a soldier seemed to nearly everyone a possibility infinitely remote; "for," it was reasoned, "if armor were discarded even in the seventeenth century, in days of primitive gunpowder, how could any form of armor reappear in warfare when high explosives were used?" Hence the field of the practical nature of helmets and body armor was abandoned to an occasional antiquarian. Nevertheless, as in so many other phases of the Great War, armor did reappear in use, and thereupon there arose at once an interest, and a very practical one, in the discarded work of the armorer. Questions were speedily raised by the general staff of every warring country as to what helmets and body armor could do in protecting the soldier, what were their best forms and how they could be most speedily prepared? It may be safely said that there was not an important collection of ancient armor in Europe which was not visited by commissions, collectively or individually, in an effort to learn from the experience of the past.
Before proceeding to the already highly developed field of modern armor, let us review briefly the work of the ancient armorer[4] from the viewpoint of its practical value. This aspect of the subject, as we have noted, is surprisingly little known, not merely to the student of recent armor but to the antiquarian as well. The modern expert, as I have found, has often the belief that ancient armor was but a semi-barbarous defense, serviceable only against arrows, slings and swords. The antiquarian, on the other hand, is apt to forget that its primary virtue was serviceability and that the keenest minds had studied it from this standpoint from the earliest times.
Let us now attempt to answer several questions:
(A) What kinds of armor were early used?
(B) Was armor actually an important means of saving life and limb?
(C) How was it made?
(D) How was it tested?
(E) How heavy, irksome and even dangerous was it to wear?
(F) What in summary was its use in later times but prior to the Great War?
(A) What kinds of armor were early used?
Let us refer to Fig. 1, which illustrates the various types of armor used in Europe during a thousand years. In early times we see a jacket of padded hide discarded in favor of a coat of scales; and this in turn give place to a garment of ring or chain mail worn over a padded costume. Chain mail more or less complete was used for centuries, it was worn, not uncommonly indeed, down to colonial days in America, but nearly always more or less enclosed in armor of plate.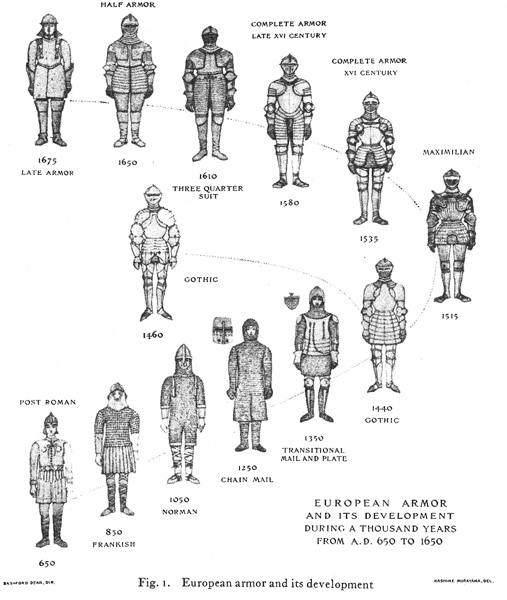 Plate armor was most elaborately developed in the epoch of Columbus, when the knight and his horse, Fig. 2, became almost invulnerable. By Puritan times armor had become reduced to little more than corselet and headpiece. Leathern armor then reappeared in use and the soldier's leathern coat and heavy leg-gear were practically of the same defensive value as in the earliest time.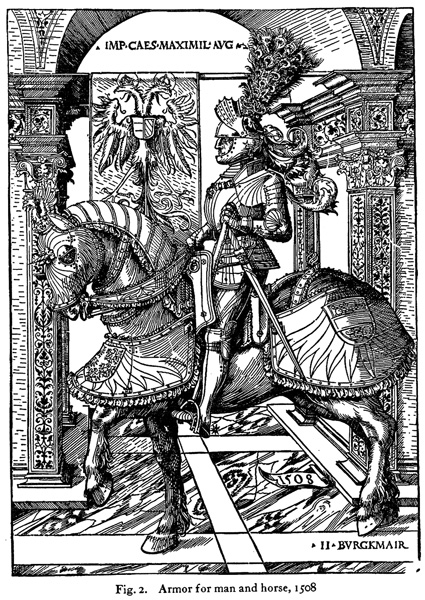 (B) Was armor actually an important means of saving life and limb?
Assuredly yes. Upon this point the evidence is definite. No well-made armor could have failed to preserve its wearer not merely from a very large percentage of thrusts of arrows, bolts, lances, swords and daggers, but from blows of heavy impact, given, e.g., by military hammers, flails, maces, war axes; also from the firearms of the day. As token of this one may point to the evidence of ancient and formidable injuries which numerous specimens of armor exhibit today; and one may even affirm that there was scarcely a famous soldier in those days who did not owe his life, directly or indirectly, to his armor. In fact, in tilts and single combats each wearer demonstrated many times the value of his defenses; thanks to them we know that such an artist in ring-duelling (champs clos} as "le bon chevalier" Jacques de Lalain,[5] withstood the heaviest blows of a combat-axe wielded by both hands of a "fearful adversary." And we know that the blows of such an axe were trenchant indeed: its head weighed from three to five pounds; its shaft, weighing about two pounds, was over five feet long, to enable it to be swung with great effect. Can we picture, too, the thrusts which the armor of such a duellist resisted when a similar arm was used reinforced with a heavy blade or spike[6]? Chain mail, which one rolls in his hand today, wondering how so "flimsy" a material could have been a protection, was also of the greatest value. Against sword, dagger, arrow, bolt and light lance it was unquestionably proof. Indeed, no better testimony is needed as to its merits than the fact that for at least two thousand years it was worn constantly and in large numbers, in spite of the fact that its average price of purchase appears to have been greater than that of any other type of armor.[7]
A single instance may here be cited as evidence of the virtue of chain mail. At Tiberias (1187) when the crusaders were hemmed in by the Saracens, after two days of hard fighting, when most of the foot soldiers were killed or wounded, when hardly a horse in the army could carry its rider, the mail-clad knights are known to have suffered no serious casualties! Yet over a thousand of them exposed themselves constantly.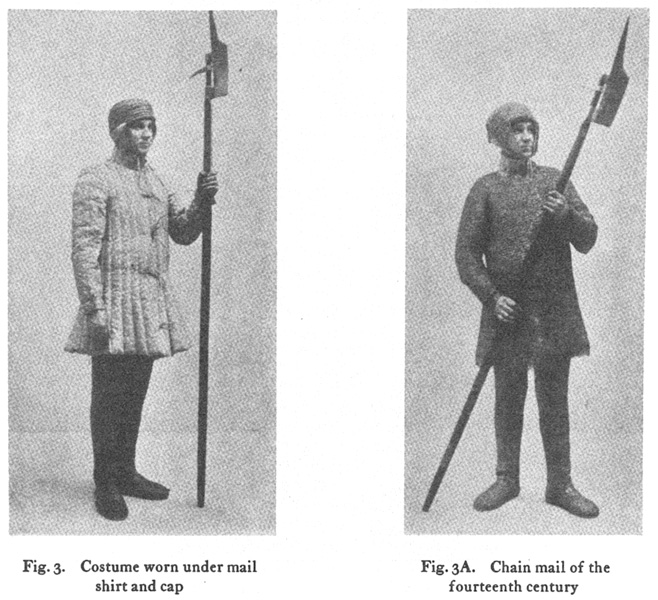 Mail, on the other hand, was not found proof to unusually heavy shocks. A stout lance or a musket ball was its bane, and the later history of mail finds it in use, as we have noted, only as a secondary defense, usually under armor of plate. Whenever it was worn it required supplemental padding to take up the shock of the blow. Ancient "documents" show what manner of quilted costume was worn under the mail, and in Fig. 3 one of these has been copied. When over this the shirt of mail is fitted (Fig. 3A), the wearer can withstand heavy blows with surprisingly little discomfort. That is to say, the mail with its padded costume becomes an elastic, springy complex or shield which deadens a blow with unexpected ease. Experiments made by the writer in this direction converted him to the faith that mail as a type of armor is by no means to be despised.
Armor of plate was a far stouter defense. Gothic armor withstood at short range the straight impact of a heavy crossbow bolt. And the ponderous armor of the late sixteenth and early seventeenth century withstood the shock of heavy bullets. Historical instances are not rare when armor saved its wearer from bullets at close range. About 1570, Strozzi, probably wearing the type of half-armor shown in Fig. 4, was hit by a musket ball at short range; he sustained no injury, his breastplate showing only the splash of molten lead; on another occasion, as he entered a breached wall, he was struck at a range so close that he was knocked down, the ball denting his armor; again, at the siege of Rochelle (1573) he was thrice struck on the arms, and he himself relates how he came off "cheaply." [8] We also read in Brantome that in 1563, at the siege of Orleans, Dandelot was saved from a musket ball by the round shield which he carried; here the impact was so severe that he, too, was knocked down.
If we examine these old records we are surprised to find how often armor saved its wearer. His corselet, for example, saved Francis I "several times" at Pavia. At the siege of Rochelle mentioned above we learn that a certain Captain St. Martin remained uninjured after having been struck by musket balls no less than thirty times! So, too, the great Condé, armed probably after the style of Fig. 5 or 6, was saved many times by his armor; we have a contemporary note (1652) that at Port St. Antoine his cuirass was "full of dents." And so it goes. There is no question, therefore, that armor was useful even at a time when gunpowder was in general use. Moreover, the bullet of that period was usually of large caliber; its crushing effect must have been great, and its shock formidable.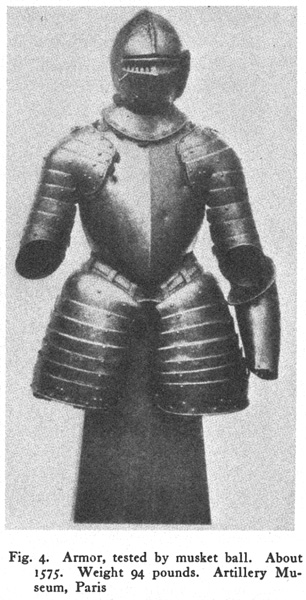 The fact is clear that had cases not been numerous in which the soldier was saved by his armor, the armor would not have been worn. Nor was the burden too great, considered from every viewpoint, if by means of his armor a particular person could be preserved. For those were days of individualism. And the personality, courage and resourcefulness of a leader would often spell the difference between the victory and the defeat of a nation. Had Marlborough been shot, whom his soldiers followed blindly, what might have been the outcome of the battles of Malplaquet, Ramillies, or Blenheim? Or was it not of the greatest importance to the French nation that Joan of Arc should be protected by armor of best possible proof? We know indeed that she was several times saved by her armor. Fancy, too, how the history of the world might have changed had the Black Prince been killed in battle; or Cromwell, or William of Orange, or Francis I or Charles V. Yet we know that all of them exposed themselves with reckless determination, and that all of them were armored by masters. One has only to visit the royal armory in Madrid today to know what such a man as Charles V thought of the practical value of armor. He was literally a specialist in its study and he provided himself with armor for every eventuality and of every weight. He graded his armor as an optician classifies his lenses; in one instance he had at least eight reinforcing pieces for a single helmet. And for tilting he did not hesitate to wear armor which would stand a supreme shock. He was a man of modest stature and proportions, yet his tilting armor in one instance weighed no less than a hundred and twenty-five pounds and his helmet alone over forty pounds!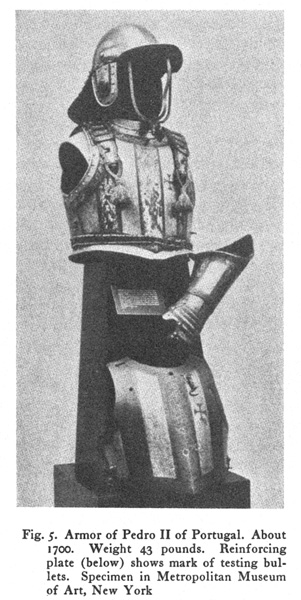 (C) How was early armor made?
The best material used by early European armorers came from special localities, where the iron occurred in natural association, probably with chromium and nickel, thus producing an alloy of great ballistic resistance. This material, e.g., from Innsbruck or Bilbao, became a staple article of commerce during the Middle Ages; it was sold in bars or in plates; the latter had been hammered out, sometimes by hand, but usually by a trip-hammer operated by water power. (See Agricola, Georgius, De re metallica, Basel, 1546.) In making armor the armorer worked his metal sometimes hot, sometimes cold, depending upon the kind and quality of work which had to be performed. The details in making armor need here be noted only in so far as they furnish materials for comparison or contrast with the modern methods.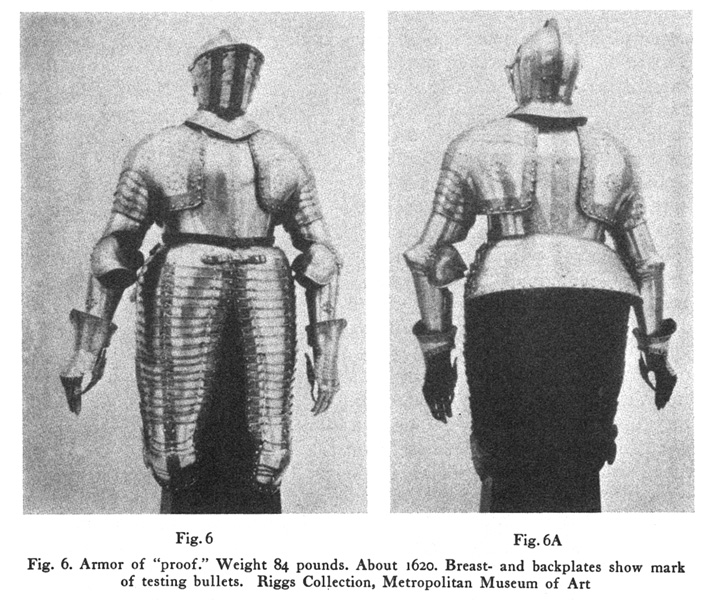 (D) How was armor tested ?
It is not hard to conclude that the armorer, during all periods, took practical means of showing to the purchaser of his armor that it was of good quality, or "proof." And the early records when carefully examined bring out numerous details indicating in what way and under what conditions the testing or proving of armor took place. That it was often done on standard lines there can be no doubt. And it was occasionally carried out under particularly severe conditions. In this connection let us review a number of tests.
The earliest one accurately recorded[9] occurred during the siege of Rhodes (308-304 B. C.) when Demetrius Polyorcetes, according to Plutarch (Demetrius, Section 21), received from Cyprus two heavy iron corselets (probably breastplate only), each weighing the equivalent of thirty-eight pounds Troy. Zwilos, the armorer who made them, thereupon caused them to be tested in order to show that they were of great strength and hardness; to this end they were shot at by a catapult at a range of twenty paces. The iron resisted the shock and the head of the catapult bolt merely nicked the surface "as though with a stylos." Thus the test was made under war conditions and it is noteworthy that the armor was not placed on racks or models but on living men. "One of the corselets was worn by Demetrius himself, the other by Alkinos of Epeiros."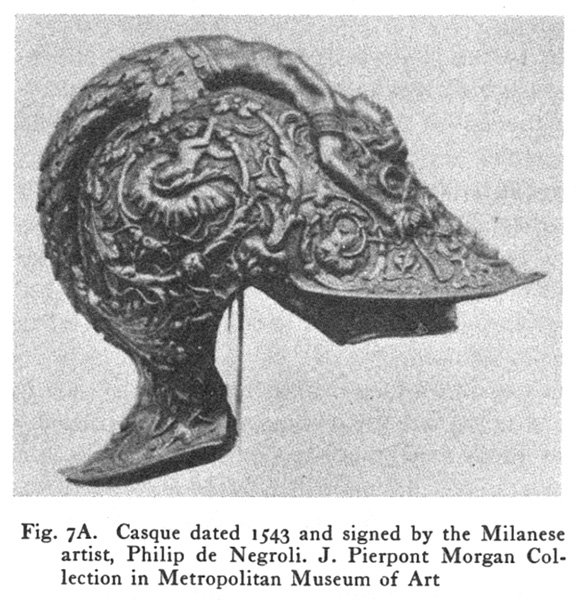 It would be interesting to know just what this test represented in terms of modern ballistics. That it was severe goes without saying, especially since the bolt of a catapult, which represented the siege artillery of that day, had a weight which would have been hard to stop (perhaps as much as ten ounces, i.e., double the weight of a heavy war-bolt of a windlass crossbow). In modern terms it is even fair to assume that had the breastplates in question been of low carbon steel, and they probably were, they would have stopped a machine gun bullet at about three hundred yards. It is surprising, therefore, that the earliest instance of a military proof of body armor recorded, occurring some twenty-three hundred years ago, should have given essentially modern results, but, naturally, at the cost of greater weight.
Detailed records of proving European armor do not next occur until the fourteenth century. But from this it does not follow that during the intervening time there were made no efforts to prove the armor and to standardize the tests. We incline rather to the belief that each purchaser of armor had a clear idea of the degree of resistance his shirt of mail and his iron headpiece should offer, and that even in his tests he did not fail to make use of crossbow, lance and sword. Unfortunately we do not know from actual experiment, ancient or modern, what a good shirt of mail (weighing, say twenty pounds) will resist, when each link is riveted and hardened, but it was evidently of greater strength than modern shirts of mail unriveted, which, of about equal weight, are claimed by their makers to resist service-revolver ammunition at less than fifty yards. In general we know that early armor of this type was often tried out by the chopping cut (estramafon) of a sword, and that a similar test was used throughout Europe down to the seventeenth century. (Fide Gaya, 1623.) The thrust of a heavy poignard was also a severe test. In this connection I recall in Paris many years ago discussing the proof of fifteenth-century Italian armor with M. V. R. Bachereau, the well-known antiquary of ancient arms: "That armor is indestructible," declared M. Bachereau, and "it would surprise you to know how flinty hard its surface is." He told me he had taken from a vitrine a headpiece hall-marked by the great Milanese maker, Antonio di Missaglia, and placed it on a block. He had then struck it with all his strength with a heavy-bladed dagger; the headpiece hardly showed where the point had struck. This incident I mention since it is the only one in which I have known an early helmet to be given a practical test. Perhaps it is not to be wondered at, for museums and collectors can hardly be expected to permit some of their most valuable specimens to be used in ballistic or similar tests!
As early as 1340 we have records that armor of two degrees of strength was in use, known respectively as "proof" and the "half proof." The former would withstand the bolt of a heavy crossbow, which was set with a windlass, the latter only the arrow of the war-bow and the bolt of the small crossbow. Two expressions to distinguish the strength of armor date also from this time (Italy and Savoy), armor "proof to every thrust" (de toute botte) applying apparently to plate armor, and "to thrust broken" (botte cassee) in the sense that the armor yielded and thus broke the thrust. The latter armor, including apparently chain mail and armor of small plates or scales (jazerans, from Spanish Jazerino = Algerian) was apparently the more highly prized; and it was more costly (one fifth or more).
Records of proving armor become frequent during the fifteenth century. And by this time measures appear to have been taken to standardize the test. Many cities had their stamps (poincons} and made use of them in certifying to the excellence of their armor. Thus numerous helmets and breastplates in our museums bear the proof mark of Nuremberg (demi-eagle and fesse), Venice (lion of St. Mark), Augsburg (pine-cone); together in some cases with the individual mark of the maker. Occasionally not only is one piece of the armor thus marked but nearly every piece, including gauntlets and leg pieces. And in extremely rare cases (to show what store was set by tests of this kind) the same piece was hall-marked at many points. A Milanese armet in my collection bears the pomfon of proof on its back on the left side, on the right cheek and on the left, and the mark of "double proof" near the back on its right side. The double mark mentioned is believed to record a test of much greater strength. These tests were made with special crossbows and special bolts or quarrels; and tests of this nature were still in force well into the sixteenth century.[10] Occasionally we read of armor which was tested in the presence of the purchaser, who brought with him special bolts and a "good windlass crossbow" to make sure that the proof was severe. This test, we may add, is not easily compared with a modern one, but it was fairly searching, for the projectile was heavy (four or five ounces), revolved in flight, and its point was well adapted to punching holes through metal plates. Such a bolt flew with an initial velocity of about 300 feet a second (writer's estimate) and it attained a distance of 400 to 500 yards; at 60 yards it would penetrate a wooden plank three fourths of an inch thick.[11]
Early in the sixteenth century guns became used in large numbers and shattered much armor of "proof." Thus in 1517, Ariosto advised the soldier to send his armor and sword back to the forge and to adopt the musket or arquebus. ("Orlando furioso" Canto IX, stanza 29.) So, too, we find in 1523 a note in Montluc's "Commentaries" (Ed. 1821, Petitot, Vol. I, page 342) which deplores the death of "so many brave and valiant men, often at the hand of the most cowardly and timid, who did not dare to meet face to face the men whom they shot down with their miserable bullets!" Hence it came about that the conditions of proving armor were changed, and that by about the middle of the sixteenth century armor was made heavier, and the terms "proof" and "half proof" acquired a new significance, suits of the former type resisting the (war) musket, the latter the lighter firearms, including pistols. Sometimes a suit of armor was made up partly of "proof" (front of helmet, breastplate and upper thigh defenses and circular shield) and partly of "half proof" (backplate, arm defenses [12]). To compensate for the increase of the weight of the breastplate it was even advocated that no armor for the back be worn, on the ground that it was unnecessary, and that its absence would discourage cavalry from turning its back to the enemy. [13]
For the rest it becomes clear that testing by firearms was an important factor in the decadence of armor, and that, little by little, each plate grew heavier, till at length the entire panoply became literally unbearable. During this time the competition became intense between the armorer and the gun-maker, whose clients added insult to injury by rejecting a musket if it did not shatter the armor, and rejecting the armor if it did not resist the musket. "Of course my fine armor failed," complained the armorer Colombo of Brescia (1574), "when my patron used an inch charge of powder!" And we can understand how the earlier armor, elegant in its lines, with its delicately adjusted curves, grooves and angles, designed especially to deflect the crossbow bolt, should in time give place to armor, solid and compact, rounded in contour. But even then the proof demanded by the wearer of the armor mounted always higher ("high-proof," "caliber proof," "musket proof") so the armorer was obliged constantly to resort to new devices. He knew little of the metallurgy of steel), so he did not experiment with ballistic alloys; he did, however, like Vulcano of Brescia, strengthen the "fiber" of his heavy plates by the laborious process of hammering them out cold and by using various processes of tempering them; but in general he had either to make his armor of fewer and heavier pieces, or to use the earlier designed reinforcing plates by means of which a patron who had complete armor could strengthen his breastplate or headpiece and at the same time reduce the total weight of his equipment by discarding other pieces, according to his actual need. The result, however, tended ever in the same direction, the armor became far too heavy; and its wearer began to complain that he had become little more than a "living anvil,"[14] for he was so burdened with his harness that his value in active combat became small. Thus, even if dismounted, he could hardly get back into his saddle. [15] (ffoulkes, "The Armorer and his Craft," page 117.) In the end, throughout the seventeenth century, the best the armorer could do was to keep his clients well mounted at the head of their troops where their presence and beaux gestes could inspire their men to further efforts. And they certainly found their way into the thick of the battle, for we recall that in those days princes and generals exposed themselves in a fashion which would seem to modern tactics little less than criminal. But while the opposing heroes rarely met in single combat in Homeric fashion, it is none the less true that they had often the opportunity of recognizing one another and at close range during the fortunes of battle. Many suits of armor of the latest period (say from 1560 to 1750) bear dents of bullets; certain of these are scars of warfare, but they are usually testing marks. Cf. Figs. 4-6. They were made prior to the finishing of the armor, for they are still apt to be below a russeted, blued or gilded surface, or even to form centers for etched or engraved ornaments. One, two or three of these marks may appear on the breastplate (sometimes at points concealed by large shoulder guards, as in the armor shown in Fig. 6), one on the backplate, one on each hip defense, one on each shoulder. The proof balls may have been shot in the presence of the person who had ordered the armor, at the time the plates were fitted to him but before they were filed and finished. In such a case the bullet was of lead weighing about one ounce, and the charge of black powder was sufficient to cover the bullet when held in the palm of the hand. (Cf. 1667 "Memorial of the Verney Family," IV, page 30, and the Gaya Reprint, by ffoulkes, Clarendon Press, 1911, page 30). There appears no record as to the distance at which the shot was fired nor the firearm employed, nor yet the mode of wadding, although these are factors which influenced the test vastly. The ancient armorer, we fear, like makers of certain types of modern armor, was apt to gloss over details. Thus, he did not care to have the test made with cartridges specially prepared at the house of his client. "In general," wrote Pistofilo, "Heaven protect me from the musket which has been specially loaded at home!", and other writers comment upon the superior force of the first shot from a gun, a condition which, in days of poorly made powder, one may well understand, for a gun barrel would speedily have become clogged with carbon.
In all tests a serious effort appears to have been made by early experimenters to find the best results which could be had in proportioning the weights of powder and ball. And they seem to have decided, as Cellini narrates in his autobiography, that the best penetration could be had when the powder weighed not more than one fifth of the bullet, a proportion, by the way, which has been confirmed repeatedly in later days even for the last rifle of the French Government using black powder. Indeed, it may truly be said that the early authorities were dealing with problems of explosives in a very modern way. Experiments were in full swing with noiseless powder, and Cellini, for example, tells ("Vita" Lib. I, Cap. VII) how by its means he was able in his hunting to keep from frightening away the most wary birds. Also shapes of bullets were being considered with up-to-date precision and there are records of models, including conical ones, which should have given excellent results. These followed the use of long projectiles shaped like crossbow bolts. Then, too, metals other than lead were employed experimentally. Iron, tin and copper were used, the last especially having a certain vogue (Admiral Coligny, by the way, was shot with copper bullets on the eve of his death). Clearly, too, the experts had ever before them the need of inventing armor-piercing bullets, and they came very close to solving their problem when they used steel bullets dipped in lead. But then, as in so many other instances, instead of following an excellent scent, they veered off in unscientific directions, as when they attempted to associate special metals with special grades of victims: thus, "only a bullet of gold could be used to cause the death of an emperor." And gun wads should contain cabalistic formulae.*
(E) How heavy, irksome and even dangerous was armor to wear?
If one examines Table I, he may compare the weights of various kinds of body armor and helmets. Chain armor was almost as light again as plate armor. [16] Suits of plate, it will be seen, did not increase notably in weight during the century from 1450 to 1550; but during the century following they became heavier by perhaps 20 per cent. Tilting armor naturally attained extraordinary weight, since its wearer needed extreme protection and for only a short period, thus a harness of a hundred and twenty-five pounds might be tolerated if it were to be taken off again within half an hour. Helmets, of which the various kinds are pictured in Fig. 8, may be divided conveniently into four groups, light, medium, heavy and very heavy. Light headpieces average three pounds in weight and include early bassinets, certain burganets, morions and cabassets, iron hats and hat-linings. Medium helmets weighing about six pounds occur in visored bassinets, salades, barbutes, armets and certain burganets. Heavy helmets weigh ten pounds, e.g., closed burganets and tilting armets. And very heavy helmets, say of twenty pounds, are represented by heaumes and siege burganets. The last-named headpieces would probably stand a good ballistic test with the most recent firearms. In their day they were proof to shot of large caliber, which were justly reckoned as most dangerous in crushing armor; they are said to have withstood a quarter pound ball, and even a one pounder when largely spent. In the matter of the discomfort of wearing armor, there can be no question that it was always irksome. But soldiers became used to it and the literature of the subject shows that they rarely complained of its burden until late in the sixteenth century. In earlier times the hardened wearer used it in active service all day long. If exceptionally active he could vault into his saddle (or over it) in full panoply, weighing, say fifty-five pounds, and while his horse was galloping he could jump to the ground without using stirrups;* he could throw himself on his back at full length and gain his feet in hardly more than double the time he could do it unarmed, the last a result which I have confirmed by actual experiment. But these things can be done only when armor fits the individual and is worn over the kind of costume adapted to it, with the necessary "points" for supporting the elements of the suit. See Figs.9 and 9A. In fact, under these conditions armor is worn with surprisingly little discomfort. I can bear witness that a suit of half-armor weighing thirty-five pounds can be worn for a stretch of three hours, and by a novice, without extraordinary fatigue or subsequent lameness.
It was only from the latter part of the sixteenth century, when armor weighed over sixty pounds that we find the old-time soldier grumbling about his equipment. Pikemen would have none of it, "many throw it away," complained Saulx-Tavannes and Pistifilo. Horsemen would put it on only at the last moment; and Montaigne (1587, Essays) deplores "the vicious habits of his times and full of weakness to take up one's armor only at the call of extreme necessity, and to get rid of it at the very moment when the danger appears to have passed, for this gives rise to much disorder" . . . "the old fashion was better which insured that each soldier had on a part of his armor all the time." Still the fashion was spreading that the armor was to be carried as part of the equipment of the camp, rather than of the individual. Thus Saulx-Tavannes pleads that "captains and soldiers in close touch with the enemy should accustom themselves to carry their armor without confiding it to their servants in order to avoid the confusion which appears when there is need to look up their luggage."
But the fact of the matter was that so far as long marching service in war was concerned armor had become a physiological failure. Not merely was the wearer rendered inactive when wearing it, but in time he became actually crippled or "broken" by its use. A droll writer, whose stories were read everywhere, commented audibly upon the shortcomings of men who had worn armor. Brantome declared that he himself had known them to be spent at thirty years. Montaigne says that "today (1587) the officer is so heavily armed that by the time he becomes thirty-five his shoulders are completely humpbacked." And La Noue (1587) repeats the same story. [17] The result of this was, according to Buttin, that "officers and soldiers not wishing to be crippled by thirty-five threw away their armor as often as possible, to the detriment of their discipline and to the advancement of much improvised quarrelling." This marked an important if not a final stage in the armorer's decline.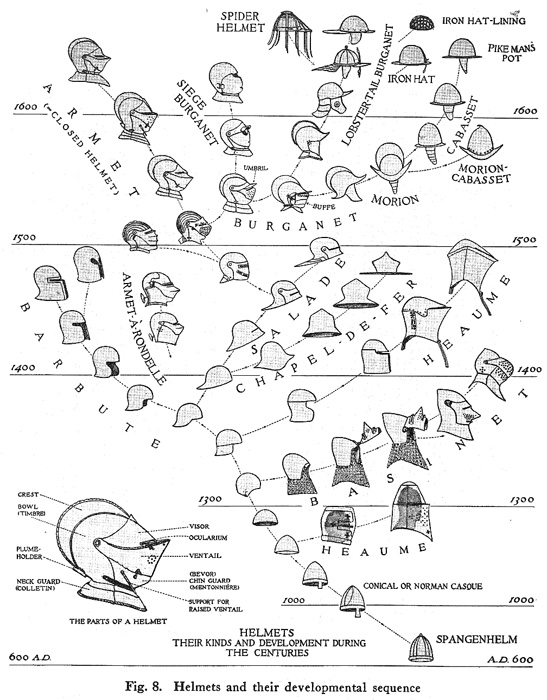 (F) What in summary was the use of armor in later times, but prior to the Great War?
In the preceding paragraphs we have seen that from the late sixteenth century the soldier complained bitterly of the weight of his armor: it crippled him, it prevented him from taking an active part in battle, and he threw it aside if he could. In spite of all this he admitted that armor was an extraordinary means of protection. It was for this reason that it did not disappear at the first flash of a gun, as is popularly believed, but remained in use for centuries while powder was being developed, and when it was in general use in warfare. In fact at the time of the highest development of armor at the end of the fifteenth century hand-guns had already been in use for a century; and there is no doubt that armor was used most frequently from the middle of the sixteenth to the middle of the seventeenth centuries when guns and pistols were in common use. At that time, indeed, powder had been notably improved in quality and already many "modern" devices had been invented. (See Table II.) Hence we have reason to believe that the general disuse of armor was not due entirely to the failure of armor, in spite of its weight, to resist firearms, but to other causes as well. Here should be mentioned especially those changes in military tactics which were taking place at a time when armor was declining. Thus during the Thirty Years' War (which ended in 1648) the Swedes, especially, built up a military system wherein it became necessary for manoeuvring armies to cover long distances in short time, a system which alone might have encouraged the infantry to throw away its armor, whether light or heavy. In fact I am inclined to believe that this factor is far more important in the disappearance of body defenses than is usually reckoned. For so soon as armor began to drop out of use it became unfashionable, then unpopular and in the end discredited. That it could still have been used to good purposes seems none the less clear if we examine attentively the comments of certain masters of war during the eighteenth century and there is no better case in point than that of Marshal Saxe (1750) who goes out of his way to recommend the use of armor, declaring that it is the more needed since in his experience casualties were caused in greater number by swords, lances and spent balls than by projectiles of high velocity. And we infer that such opinions were not exceptional since we find that suits of armor, lacking defenses for the lower legs, were worn in number up to the time of the French Revolution. Even in America we find such armor in use at the time of the French and Indian War and in rare cases during the Revolution. Lord Amherst, for example, in his Canadian campaign (1758-1760) is pictured thus armed, wearing even hip defenses, Fig. 10. Kosciuszko, also, wore armor and probably brought it to this country; and we have reason to believe that Rochambeau wore his siege armor at Yorktown (1781), for he is described by Joel Barlow as in "gleaming steel arrayed." And Paul Jones, while not in half-armor, wore a corselet under his coat during the fight with the Serapis, according to his fellow-Scotsman, Hyslop. (See Bull. Met. Mus. Art, 1912, Vol. VII, pages 26-28.) Possibly, the latest armor worn as a more or less complete suit appears in Reynolds' portrait of the Marquis of Townshend, and dates late in the eighteenth century; but we are not sure of the date of this harness, for it may have been merely a form of ceremonial costume which the painter adapted, or it may have been of considerably earlier date, e.g., worn at Fontenoy, Dettingen or Culloden. During this late period part of the armor it appears was designed to resist bullets of fairly high velocity, shot often from rifled barrels and by good black powder. The bullets, however, had not a great range, rarely as much as seven hundred yards, and with great individual variation; but they were usually of large caliber and proportionally more destructive than those in present use. Thus bullets of the Revolutionary musket weighed about fourteen to the pound (= 500 grains), which is heavier by 50 to 100 per cent than the present rifle ball (Spitzer). (The latest Mauser weighs 227 grains.) [19]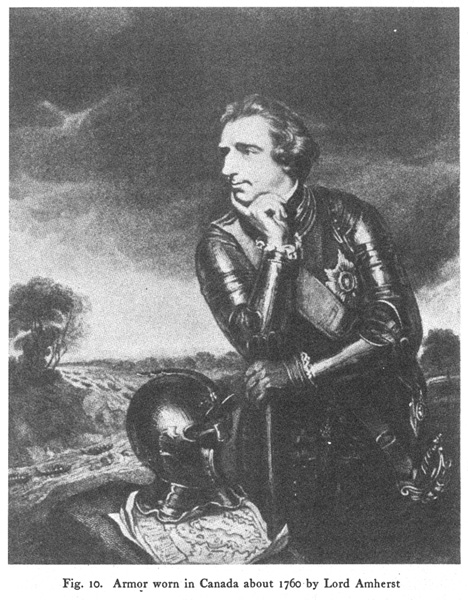 Armor of this kind showed, for one thing, that there was no evident ground for the common belief that the severe shock of a projectile against armor would in itself be fatal to the wearer even when the armor remained unbroken. In fact, we shall see that armor which resists a machine gun, say at fifty yards, did not cause its wearer grave discomfort from the impact even of a series of projectiles. In a word, from the study of the history of armor one can find no reason why it could not be used under certain modern conditions: hence it follows that if armor were required in actual warfare, there would be no need of developing a new system of wearing armor. We should advance merely a step further in its historical development.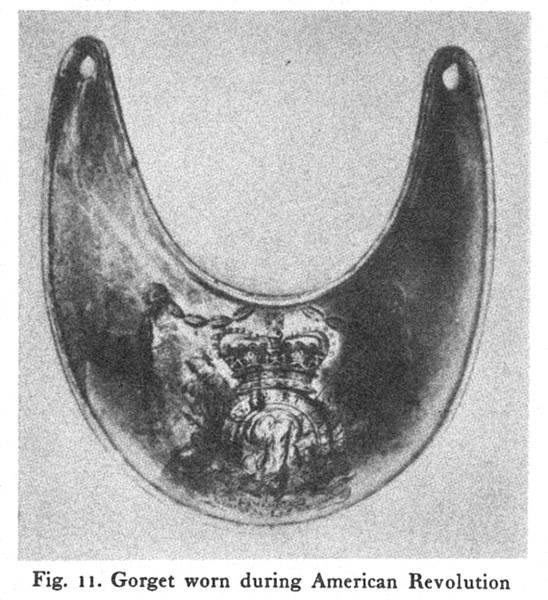 There is no question, then, that armor passed out of general use not at once but gradually. Thus after the year 1620, leg armor rarely appeared and defenses of the hips and thighs are uncommon from about 1670. Defenses for the arms were abandoned piece by piece somewhat later, although complete arms continued to be used for about a century in ceremonial armor, i.e., as worn by highest officers. For a long time the neckplate or gorget was retained as part of the regular equipment and it even became exaggerated in size; but it finally became so small that its function as a defense had practically disappeared. As shown in portraits of Colonial and Revolutionary times, it was little more than an ornament which was attached to the officer's neck by a ribbon and usually bore his regimental number. See Figs. 11 and 12. The corselet and helmet have remained ever in use in certain state guards or cavalry regiments. These plates were made of low carbon tool-steel and are fairly resistant even to modern explosives.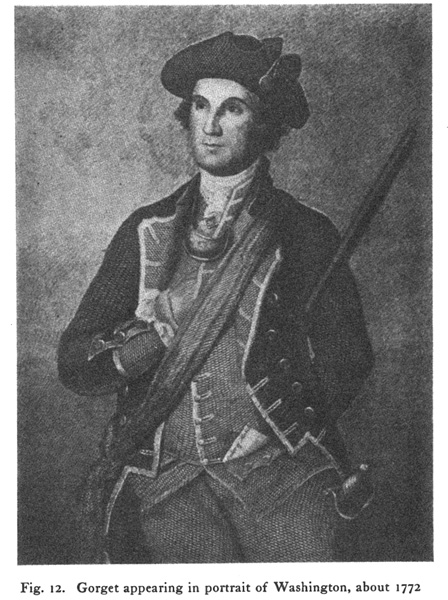 A heavy corselet (forty-one pounds), probably of the time of Napoleon, was recently tested by Captain Roy S. Tinney (National Service Magazine, January, 1918, pages 395-403) and gave good results; it resisted in turn Craig ammunition .30, 40 to 20 with muzzle velocity 1,970 foot seconds; at 100 yards 1,553 foot-pound blow; a Winchester .30, 30, 170, of 1,522 foot pounds; a Sharp's rifle of .45-90, 300, at 100 yards (muzzle velocity 2,644 foot seconds); and finally the 303 Savage firing a 195-grain bullet having muzzle velocity of 1,658 foot seconds. In a word, such a corselet resisted projectiles which were scarcely inferior to those in use on present battlefields.[20] With this test in mind, we may well believe the early statements that the cuirass of the guardsman played an important part in bodily protection during the eighteenth and nineteenth centuries. During the eighteenth century, we recall that its use was fairly constant for cavalry (for the highest officers, especially, when parts of it, at least, degenerated into a ceremonial costume). And in the early nineteenth century, the corselet and headpiece appeared in great numbers in European armies. For one thing, Napoleon the Great favored their use. And there still exists his order to Requier, chief of the artillery museum of Paris, to send post-haste to Tilsit (1808) the corselets and casques which had been made for himself and the Prince of Wagram. There is no question, also, that armor was worn at a very late date in sieges and in naval warfare. Thus heavy helmets and shields of various forms were used during the eighteenth and nineteenth centuries, especially for the defense of sappers. In Fig. 13 is pictured one of the heavy leathern headpieces worn by sappers (and possibly by firemen), 1750-1800; specimen now in the Tower of London. In Fig. 14 appears a heavy helmet of this type drawn from a specimen in the Tower of London; its weight is over nineteen pounds and it dates from about 1848, judging at least from Raffet's picture of the siege of Rome in this year, when sappers are shown wearing helmets of this type. Perhaps, too, we should here mention the numerous types of metal "helmets" which have appeared as headgear for infantry and cavalry during the late eighteenth and throughout the nineteenth century which were of little value save ornamental, e.g., the eagle headpiece of the fugitive German emperor.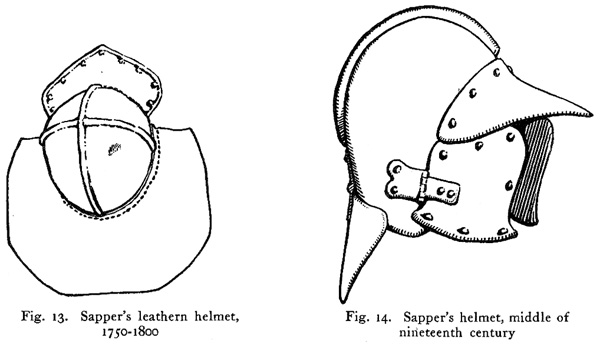 In the Orient armor was used practically up to our own time and is probably still worn in out-of-the-way localities in Persia and India, more as a ceremonial costume, perhaps, than for use in warfare. Moreover, we know that the Japanese wore armor regularly until about 1870, and fairly good armor it was. Chain mail reappears in the East with curious persistency. As late as the Younghusband Expedition to Thibet (1903) cases occurred where natives were captured whose costume, reinforced with chain mail, had successfully resisted the bayonet thrusts of the English. Hardly earlier than this, chain mail appears to have been worn in the region of the Caucasus. Similarly, we note that coats of mail are still worn secretly wherever danger is dreaded from personal attacks, especially by sword or knife. The writer learns from good authority that a well-known armorer in Paris derived, until about 1908, a substantial part of his income from making shirts of chain mail which were shipped to South America and Africa for actual service.
To trace in further detail the use of armor in relatively recent times: It is known that breastplates were worn more or less frequently during the American Civil War. In the museum in Richmond, there is preserved such a "suit" of armor, Fig. 15, which at the time of the siege was taken from a dead soldier in one of the trenches. He was shot in the side or back, for the breastplate, it appears, was not penetrated. This armor was of northern origin. Further inquiry shows that a factory for the making of such defenses was established at New Haven about 1862. The metal employed was a mild steel, .057 inch thick, and the "suit" weighed about seven and one half pounds. While no tests of this armor are available,[18] we estimate from the thickness of its metal, assuming that it is a "mild" steel, that it would have stopped a 230-grain pistol ball traveling at the rate of 500 foot seconds.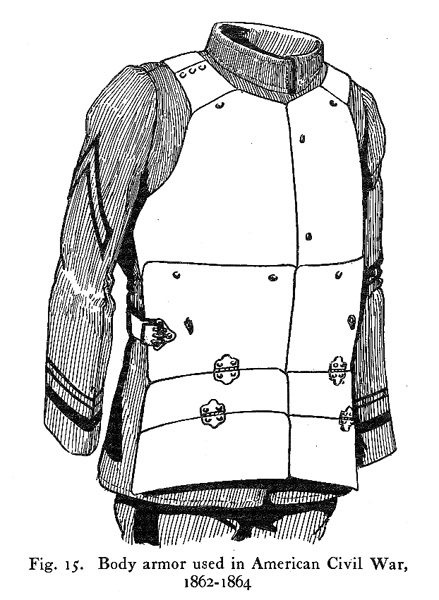 During the Franco-Prussian War several types of armor were used to a limited degree. The heavy corselet appeared, also the horseman's helmet. We have occasional reference to the use of a very heavy helmet in the trenches and also of varied types of armored waistcoats. One of these, manufactured in Paris, is shown in Fig. 16. This specimen is made up of small rectangular plates of low carbon steel and riveted to canvas. The entire defense weighs about five pounds and could be worn with a reasonable degree of comfort. It does not resist a 230-grain pistol ball at 650 foot seconds, and from its behavior in this test, one doubts whether it would have resisted a similar bullet at a velocity greater than 300 foot seconds. Its value, therefore, lay in protecting its wearer only from spent balls or splinters. Ballistically, it had much less strength than the light-weight shrapnel helmet in present use in the American Army.
In all later wars, armor appears to have been used sporadically, sometimes as body defenses, sometimes as helmets, sometimes again in the form of shields which were either carried by the soldier or pushed in front of him. It was due to small shields of the latter type that the Japanese were able to take some of the most difficult outposts of Port Arthur. Also, in the Boer War armor appears to have been used. Thus in the siege of Ladysmith, helmets were used which are said to have been proof against machine guns. They were clumsy affairs and heavy, and were not firmly attached to the head. No details of these helmets have been recorded nor have we been able to secure photographs of them. From an officer (Lieutenant R. Miller of the Imperial Light Horse) who was present at the siege, the writer learned that the defenses in question were crudely made and were only moderately effective.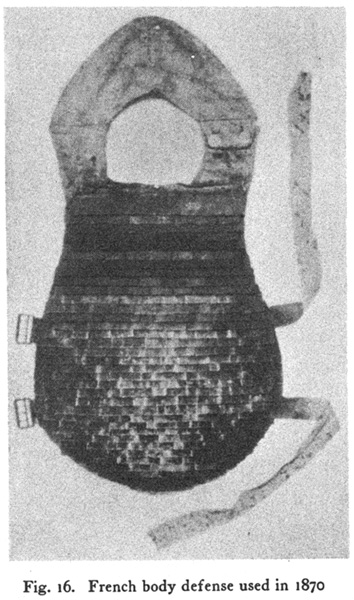 The most convincing historical instance of the use of helmets and body armor against modern ammunition dates from 1880. This was in the case of the Australian bandit, Ned Kelly, who long owed his freedom to the fact that he wore armor (Fig. 17). This, it appears, he had improvised; it was the "work of some skilled local artisan." It is said to have been made out of old plowshares, beaten into plates one quarter of an inch thick. It was badly fashioned and extremely heavy, weighing ninety-seven pounds, but it covered the body completely. On various occasions it was badly "shot up" but not penetrated. Its wearer was captured after a several months' chase and then only after he had been shot in the legs. To give one an idea of the efficacy of this armor against Martini rifles at close range, we insert the following quotations from the official account of this case written by one of the attacking party.
"I have no hesitation in stating," writes Superintendent Hare, "that had the man been without armor when we first attacked . . and could have taken proper aim, not one of us would have escaped being shot. He was obliged to hold the rifle at arm's length to get anything of a sight." "His armor included a great headpiece which was like an iron pot which rested on the wearer's shoulders and completely protected the throat. The outlaw as he advanced toward the policemen had taken the precaution to conceal his armor under a long gray overcoat." "The first policeman closed in upon him and a strange fight began. The soft Martini-Henry bullets dinted his armor but did not penetrate and he coolly returned the fire." "It appeared as if he were a fiend with a charmed life." "For one half-hour this strange combat lasted." "Then one of the party rushed in and shot the outlaw in the leg, then sprang upon him and disarmed him."
This instance of the use of armor against modern gunfire is of especial interest since it shows that an armored man could stand in front of a squad of riflemen, even at close range, and be reasonably immune. He could even kill them all, as Superintendent Hare admits, if he were a skillful marksman.
From the time of Kelly's practical "experiments" up to 1914 the matter of body armor had not been held altogether in abeyance. And he who follows the literature of the subject will be surprised to find how many types of "bullet-proof" devices have been invented. A breastplate known by the name of its promoter, Rowe, apparently patented, was experimented with extensively prior to the year 1901. It gave results so promising that it attracted the personal interest and support of the German emperor. Another body defense known as the corselet Loris was also "tried out" about this time; its inventor demonstrated its effectiveness, if I am correctly informed, in various theatres in France. So, too, a bullet-proof waistcoat was designed by Casimir Zeglin and worn about 1897 in spectacular tests in a New York theatre. And in London similar demonstrations, more or less serious, were made by inventors, whose results, by the way, Sir Hiram Maxim accurately followed up, he himself suggesting a certain type of high alloy plates (containing tungsten) for their armor.
Even chain mail was developed by these experimenters. Thus in the military retrospective exhibition of 1889 in Paris types of mail were shown which were "proof" to dagger thrust and to the lead ball (433 inch) of a service revolver. The former mail was made up in alternate rows of links solid and open (i.e., formed so that the tips of the wire merely butted together), made of tempered spring-steel ; the better quality of mail had its links fused or riveted.
About the year 1900, in fact, a dozen or more types of armor were being exploited. A well-known establishment at St. Etienne was then advertising a light breastplate proof to service revolver. A cuirass made by Alphonse Payot of La Rochelle, Savoie, was in the market, and one devised by Ernest Benedetti was tried out in Rome (1901) before a military commission and was given a favorable report. And at that time military writers were impressed with the necessity of reconsidering the armor problem. "If out of a thousand soldiers not one can reach even an improvised trench when it is defended by machine guns we must arrive at the adoption of some kind of a portable defense," writes Captain Danritt ("La Guerre de Demain" page 600). Ch. Buttin notes at that time ( 1901, "Les Armures a Fepreuve" Annecy, pages 99-100) that the "question of proof, far from being a dead issue, is the order of the day," and that "nothing is more sure than that science has never said its last word. And perhaps there will be found, even if it has not already been found, a process of making again in a scientific way that which the earlier armorers were unable to produce in their day, in spite of the superiority of their workmanship, a corselet, light and truly proof, this time to the test of an armor piercing bullet!"
[1] "Notes sur les armures a I'epreuve." Annecy, 1901, 100 pp.
[2] See also Ch. ffoulkes, "The Armorer and his Craft." Methuen, London, 1912.
[3] That this statement may be given more definitely we point out that arms and armor unquestionably furnish the best expression of the art and the science of the metal worker of the Middle Ages and of the Renaissance: Armor includes in its decoration, gilding, silvering, tinning, damascene, niello, even jewel-setting: its ornamental designs explain to us stages in the development of religious and civil customs, including pageants and sports, not forgetting falconry. It furnished also an important medium for the art of painting: its enriched variants copy for us types of secular apparel of each period; by means of etching it pictures the stuff of which the costumes were made; it also offered an excellent medium for ornament, with lettering and borders. In its mounting it summarizes the textile art of various periods: here appear tissues from the commonest to the most costly, including galloon and fringes, and with these are adequate materials for the study of the art of the leather worker. The size of armor gives us, finally, convincing data as to the state of physical development among the men of many nations.
[4] For critical help in preparing this section I am greatly indebted to Mr. Charles W. Gould.
[5] Lefevre de Saint-Remy, "Chronique de Jacques de Lalain' [1421-1453], published in 1842, Pantheon litter aire.
[6] A shirt of mail in the collection of the Metropolitan Museum of Art contains a quarter of a million hand-made and tempered rings, each carefully formed and each separately riveted. If one estimates that a skilful armorer might make and weave together two hundred and fifty of these links in a day, it is easy to see that this mail would have cost its maker, working every day, nearly three years' work, a low estimate, we believe, for making this particular mail. Such a shirt would therefore have cost its purchaser in round figures, at modern prices, six thousand dollars, allowing the maker six dollars a day for a thousand days! [Editorial note: $6000 in 1914 dollars is approximately $146,275 in 2017 dollars.]
[7] 1898, Oman, Ch., "A History of the Art of War." Methuen, London, pp. 323 et seq. "To their [the Moslems'] great surprise they found that very few of the knights had been seriously hurt; their mail shirts had protected them so well from the arrow shower that few were badly wounded and hardly any slain. . . ."
[8] Brantome, "Courronels francois," Liv. II. Ch. I. Edit. Elzv., Vol. VII, p. 44. In footnote p. 53, as quoted by Buttin, "voila comme j'en eschappy a bon marche."
[9] Crude tests of armor by sword, spear or arrow are doubtless as old as history itself. Here should be mentioned David's testing the armor which Saul offered him (about B. C. 1015). I Samuel, xvii, 38, 39. "And Saul armed David with his armor and he put a helmet of brass upon his head: also he armed him [by providing him] with a coat of mail. 39. And David girded [drew] his sword upon his armor and he assayed to go [to let go or strike at it] ; for he had not proved it. And David said unto Saul, I cannot go with these, for I have not proved them [shown that they were not proof]. And David put them off him [put them away from him]."
[10] Crossbows were not discarded in the French army until 1566, when, indeed, many soldiers still preferred them to muskets; and in England the use of the musket did not become obligatory until 1596.
[11] See Payne-Galway, Sir Ralph, "The Crossbow, Medieval and Modern, Military and Sporting." 1903, London, XXII, p. 328.
[12] In instances all parts were designated as half proof, including even the groin-plate (brayette). v. Catalogue of the armory of the Dukes of Lorraine, 1629.
[13] A similar reason for abandoning the backplate was recommended by Alexander the Great. (Rollin, "De la science milttaire" liv. XXV, 3.)
[14] La Noue in his "Discours pohtiques et mihtaires" translated by "E. A.," 1587, writes on page 185, quoted by ffoulkes, "For where they had some reason in respect to the violence of harquebuzes and dagges (muskets and pistols) to make their armor thicker and of better proofe than before, they have now so farre exceeded, that most of them have laden themselves with stithies (anvils) in view of clothing their bodies with armour."
[15] Thus, Gaspard de Saulx-Tavannes, in his memoirs ("Collection des Mem. relativ. a l'histoire de France" Paris, Didier et Cie., 1866), notes "that it is impossible for captains in their heavy casques and cuirasses to strike many times, as is their duty. If one who commands wishes the help of a casque and breastplate, proof to the musket ball, he must take them only at the moment he charges."
[16] This difference in weight is, however, deceptive; for with chain mail a much heavier supporting costume was worn.
[17] "Discours politiques et militaires" "Neither was their armor heavie (those days) but that they might wel bear it 24 hours, while those that are now worne are so waightie that the peiz of them will benumme a Gentleman's shoulders of 35 years of age."
[18] Since this was written Miss Helen Gibbs, curator of the Museum of the Virginia Military Institute, has very kindly forwarded to the writer a hip-guard belonging to this body shield. A test shows that it will resist a 45 Colt-revolver bullet of 2OO grains at about 700 foot seconds velocity. A second test was made with standard ammunition (800 foot seconds), 23O-grain jacketed bullet from the 45 automatic: one shot failed to penetrate at ten feet, two penetrated but without splintering the metal. The body shield was, accordingly, a surprisingly good one for its period before the development of higher ballistic alloys. Again, thanks to General Nathaniel Wales of Jamaica Plain, Mass., I have just received very interesting data regarding this "steel vest" of 1862. He states that "it was worn more often than we had any idea of, but many officers felt they should not be protected better than their men, consequently those who wore the armor did not advertise it." . . . Thus "two of as brave officers as I ever knew wore it, my colonel . . . and my major who was killed, a bullet grazing the bottom edge of the vest and passing through his body." He states also that his life was saved by it at Antietam (September 17, 1862). Quoting his letter: "I had been presented with a steel vest by my father when I left Massachusetts, but I left it in Washington. When I entered the fight a brother officer, who was wounded, insisted on my putting on his steel vest. . . . When I advanced [in the open to meet a rebel charge in the twenty-first Massachusetts regiment] a bullet [evidently at close range] struck me just below the heart . . . knocking me down. Getting on my feet I walked back to where General Ferrero was lying behind a ledge. As I passed him he said, 'Where are you going, adjutant?' I replied, 'I am hit, sir.' 'Where?' I pointed to the hole in my coat and he said, 'You had better go to the rear.' I sat down remarking, 'Til see how badly I am hurt.' It was not until I grasped the cartridge-box belt to unclasp it that I realized I was wearing the steel vest. The convex side of the dent had cut through vest, shirt and undershirt making a small cut in the flesh. It was considerably swollen and for ten days or a fortnight I was unable to draw a long breath." The drawing of the armor which accompanies the notes of General Wales shows that his escape was the luckier since the bullet struck the breastplate very close to the point where four plates came together, a region of structural weakness in armor of this type, for the free corners of the plates are held together only by rivets.
[19] Editorial note: The M855 5.56x45mm round weighs just 62 grains, so it's just over a quarter as heavy as the old Mauser round — and it is, needless to say, much smaller than the 500 grain rounds of centuries past, which are like miniature cannonballs in comparison. Of additional note is the notion that the M855 is generally considered ineffective at distances past 500 yards, so it may perhaps be considered inferior to the Mauser in this respect as well, yet, due to its hardened steel penetrator, the M855 is very effective at penetrating steel armor and lesser barriers.
[20] Editorial note: In many respects, this holds true to the present day.
Follow us | Contact us:
Facebook | Youtube | Contact